The Makit Together Line-Up
We are so excited to announce this year's line-up of awesome humans to be our class leaders! Check out the list below!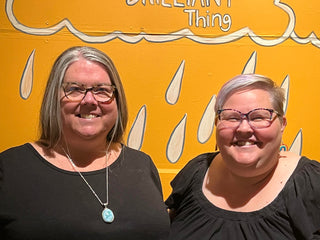 Your Co-Hosts
Christy Nelson & Kashoan ward
Christy & Kashoan started out as crafting friends way back in 2011. Christy is the owner of Makit Takit Craft Studio. Kashoan is a creative entrepreneur. Together these ladies own & run Makit Together and Makit Market. You can find them on Youtube hosting Take A Break & Make. They often refer to themselves as "business besties". They even have matching scissor tattoos.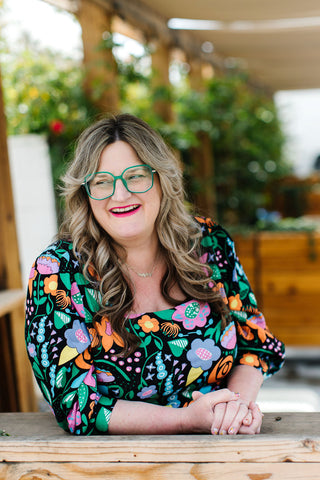 keynote speaker
Nicole Stevenson
Nicole is the CEO and creative director at Dear Handmade Life. At 24, she turned her passion into her profession when she started selling Random Nicole, a handcrafted clothing line at flea markets and backyard craft fairs, which grew into a thriving retail and wholesale six-figure business that was carried at over 250 shops around the world. Nicole's desire to help other creatives pursue their dream business and discover the joy of making led her to teaching, consulting, running a workshop studio and eventually co-founding Dear Handmade Life in 2007. She now connects, educates and shortens the learning curve for other creatives by creating community and sharing what she's learned through the Dear Handmade Life events, blog and podcast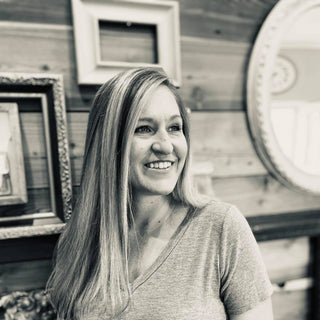 Instructor
Heather Ladman
Heather is a Prek-6th grade art teacher in the Malcolm Public Schools District. When she is not teaching, she enjoys making her own art in her grain bin studio. In addition, she loves being outside, reading, flipping unique finds, and fishing. Her husband calls her the 90% because she often has multiple projects going at once, none of them ever considered "done". Heather lives outside of Lincoln with her husband, son, two daughters, and their dog Cooper.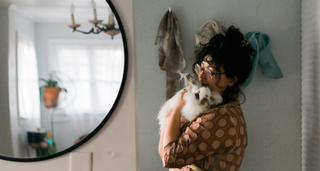 Instructor
lesley darling
Based in the Great Plains, Lesley's passion for fiber and folk life has led her to Scotland, Wales, Sweden, and beyond in search of traditional skills. In addition to growing natural dyes, she is a knitter, spinner, weaver, and raises angora rabbits. She teaches workshops throughout the US for beginners and advanced students with humor while sparking their curiosity for fiber and folk culture.She is a custom natural dyer for internationally known artist-organizer Pattie Gonia, among others, and has collaborated with the National Audobon Society and various organizations across the country.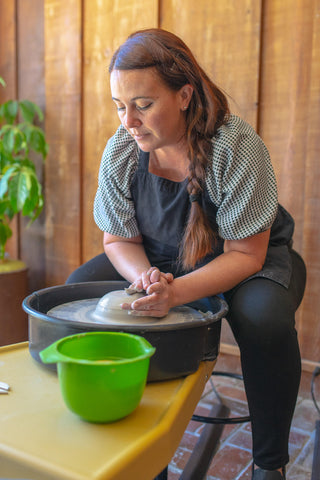 Instructor
Mollie Leisinger
Artist and educator Mollie Leisinger is the founder of SayDoSay Pottery Studio. After obtaining a Fine Arts degree from UNL and teaching Pottery in Lincoln Public Schools, she took the leap to open up her home studio in 2020, where she created work to sell and also taught classes. It became a quick reality that classes were popular and being sought after and it was time to grow into a bigger space. The universe led her to a perfectly charming building nestled in the downtown Bethany neighborhood and the space came to life in February of 2022. Mollie loves learning, sharing, teaching, creating, and connecting with people in the community. Teaching is a passion of hers and she feels incredibly grateful to have been able to create a space that inspires and allows so many ideas to come to life.
Intro to Pottery Group 1 - 3 sessions starting Thursday session one Session Info
Intro to Pottery Group 2 - 3 sessions starting Thursday session two Session Info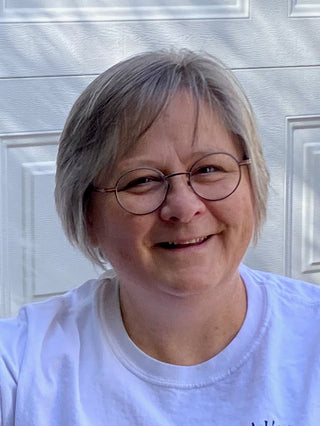 instructor
lynette fast
An active artist and art educator, Lynette earned her Bachelor of Fine Arts in Education degree from University of Nebraska, Lincoln and has continued many graduate hours of study in art and education at Doane College, University of Nebraska, and many workshops and seminars. She is an accomplished artist who has taught visual art for over 30 years, exhibited work in juried competitions and group shows, and has work in galleries and private collections across the world.
Metal Jewelry Workshop: Learn the Basics of Jewelry Making Earrings or Pendants - Friday Session Two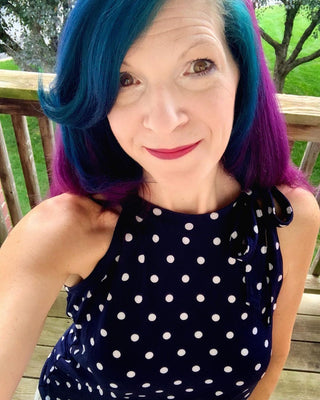 instructor
Dianne Fago
Dianne is a self-taught artist living in Omaha, Nebraska. She loves creating pieces of mixed media art that are full of colors and texture. Searching for new ways to create texture in her work led her to use a lot of items that were destined for the trash can. Dianne is a YouTube content creator and has been published in Art Journaling Magazine, and Somerset Magazine.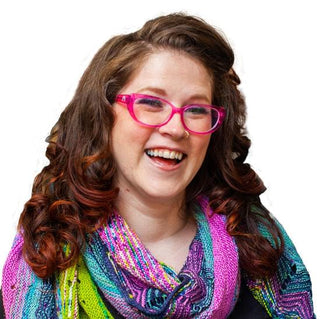 Instructor
Julia Franken
Julia Franken is the head yarnicorn and lead knitting/crochet teacher at Makit Takit. She was taught by her Grandma and Great-Grandma to crochet when she was around the age of ten. When she got a little older, she closed that door and went on with life thinking she wasn't crafty at all. After having her children, she picked up her crochet hook, quickly followed by some knitting needles! Julia now keeps adding and collecting new crafts left and right!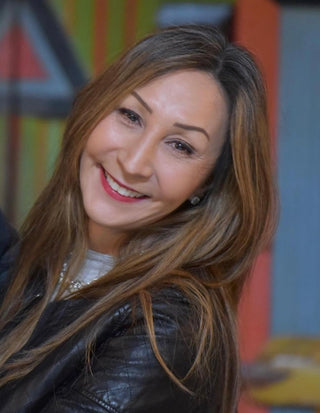 instructor
Jon'el Hunt
Known online as the Cheeky Tufter, Jon'el is a contemporary fiber and textile artist. She plays with yarn and other textiles to create rugs, wall art, home décor and other usually (but not always) functional one of a kind, unique pieces and now she's excited to share this modern twist on this old art form with you!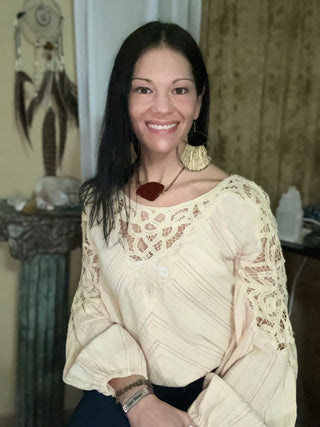 instructor
Carissa Alamay
Carissa's soul contract is to guide others into alignment with their Divine Purpose and Soul Mission, using the many different tools of Divination. She will assist you in tapping into your own Ancient Wisdom and connecting with your high self. Some of the intuitive techniques that she uses to channel Spirit are: pendulum readings, chakra balancing, oracle readings, gem dropping, personalized crystal body gridding, custom jewelry design, and flower Essence Therapy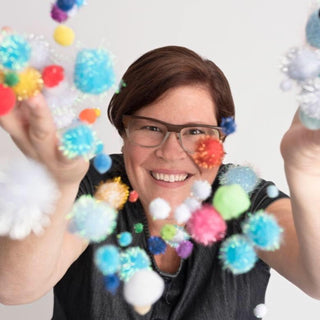 Instructor
Kelly Afflek
Kelly of Tomato Tomato Creative, helps kids and adults alike unlock their creative selves with, DIY craft kits and creative workshops. Her workshops are based on the process of art and creative exploration to boost one's own inspiration.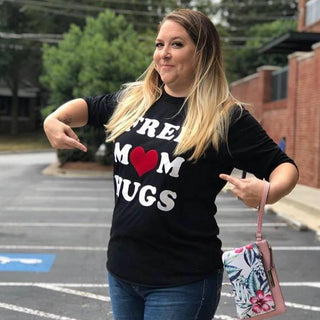 instructor
Katie Mac
Katie is a maker, marketer, and a mama to two kids and one fur baby. As the director of marketing, community, and online operations for Dear Handmade Life, she's got project management skills for days!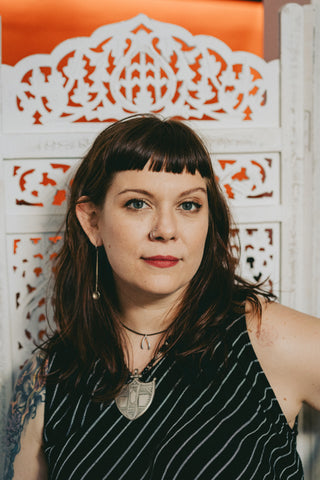 Instructor
Samantha McCulloch
Samantha McCulloch, LMT has been combining her lifelong artistic talent with her career in therapeutic touch for over a decade as the Henna Gesserit. She has traveled the world learning henna traditions and techniques and has a true passion for sharing all of it with you. Applied with artistry and intuition, her henna sessions are a unique source for self-care and celebration of the body for many clients in Lincoln and beyond.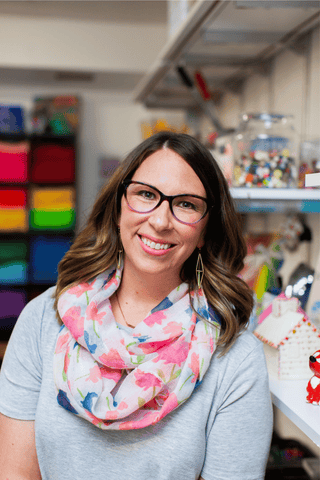 instructor
Elena Madsen
When Elena was about 5, she attended a church craft day with her mom and ever since then, she knew that it was a cool thing to do. She enjoys learning new skills, and loves helping people see their crafting visions come to reality. She took up embroidery during the pandemic and has used her design skills and love of pop culture to enhance her projects.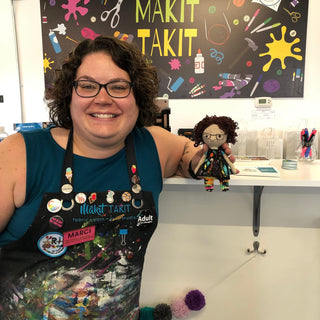 Instructor
Marci Powers
Marci was born right here in Lincoln, Nebraska, Marci has combined her love of crafting with her love for kids into being the studio's Summer Camp Teacher and Craft Manager. She loves painting door hangers and teaching others new things. Marci spent many years in Girl Scouts crafting as a child, then moved into painting and drawing classes in high school.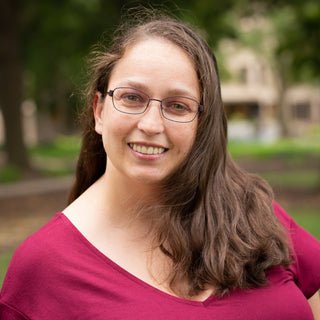 Instructor
Sarah Haws
Sarah is equally comfortable with the fiddliest of hand stitching or a table saw. She's been embroidering, cross-stitching, and sewing for most of her life and she's looking forward to sharing some of her best skills. If we're lucky, we'll get a glimpse of her service dog, Miles.